Livre
: performance-pésie-photos
Chambres est le fruit d'une longue réflexion sur les possibilités et les enjeux de la transposition de la poésie-performance vers le livre. En optant pour la photo, les auteurs sont parvenus à créer des ambiances et des lieux pour les poèmes afin de leur donner un espace physique où s'actualiser. Le poème, dans cette perspective, se situe ultimement quelque part entre les photos et les textes, dans ces Chambres, espaces domestiques dont la violence tant du quotidien que de la sexualité cherche à s'extirper.
"Chambres" is the result of a long reflection on the opportunities and challenges of the implementation of performance poetry towards the medium of the book. By opting for photography, the authors were able to create environments and places for poems, and to give them a physical space to grow. The poem, in this perspective, is ultimately placed somewhere between photos and texts in these rooms, domestic spaces whose daily violence as whose of sexuality fight to escape.
Des performances autour du désir qui, devant l'absence de l'autre, se retourne violemment sur lui-même
Performances around the concept of desire which, faced with the absence of the Other, turns violently on itself.
performances et textes : Sébastien Dulude
*toutes les performances sont réelles
*all performance are real
Muqueuses, c'est la rencontre. Deux corps étrangers qui fusionnent dans une effusion de liquides corporels. Aussi irritant qu'indélébile. Maquillage-rituel avec du Curaçao bleu, un alcool qui tient lieu de salive.
Mucosa is the encounter. Two foreign bodies merge in an outpouring of body fluids. Irritating and permanent. Makeup-ritual with blue curacao, alcohol in lieu of saliva.
Extrait : «nos sexes moisissaient mais nous avons poursuivi nos accouplements de salmonelle jusqu'à la plus parfaite pourriture»
La chambre acide / The acid room
«même vautrés dans la poudre pour bébé c'était assez difficile». Les corps se sont frottés violemment l'un sur l'autre, accouplés jusqu'à l'eczéma. Le lit est vide mais la brûlure demeure.
"even wallowing in baby powder, it was quite difficult." The bodies violently rubbed on one another; they coupled till eczema-ridden. The bed is empty but the burning remains.
Extrait : «tu répandais tes caresses de méduse
et l'amour faisait misère sur un lit acide»
l'urine des autres / somebody else's urine
Un rêve érotique. Un réveil somnambule. Évanouis, les bouches, les mains, les seins. Je me suis échappé.
An erotic dream. Waking and still sleepwalk. Vanished, mouths, hands, breasts. I escaped.
Extrait :
«
notre orgasme est une diarrhée merveilleuse
nos corps des purées qui se beurrassent
notre Mexique fait cinquante de fièvre»
Le lieu pour oublier. Saigner le désir avec des armes domestiques. Lâcher prise comme on lâche des couteaux sur ses pieds : la peur.
The place where one can forget. Bleeding desire with domestic weapons. Letting go, like dropping knives on one's feet: fear.
Extrait : «j'ai découpé les soupirs de notre vie en petites tranches
dont je ne conserve que les accessoires tranquilles»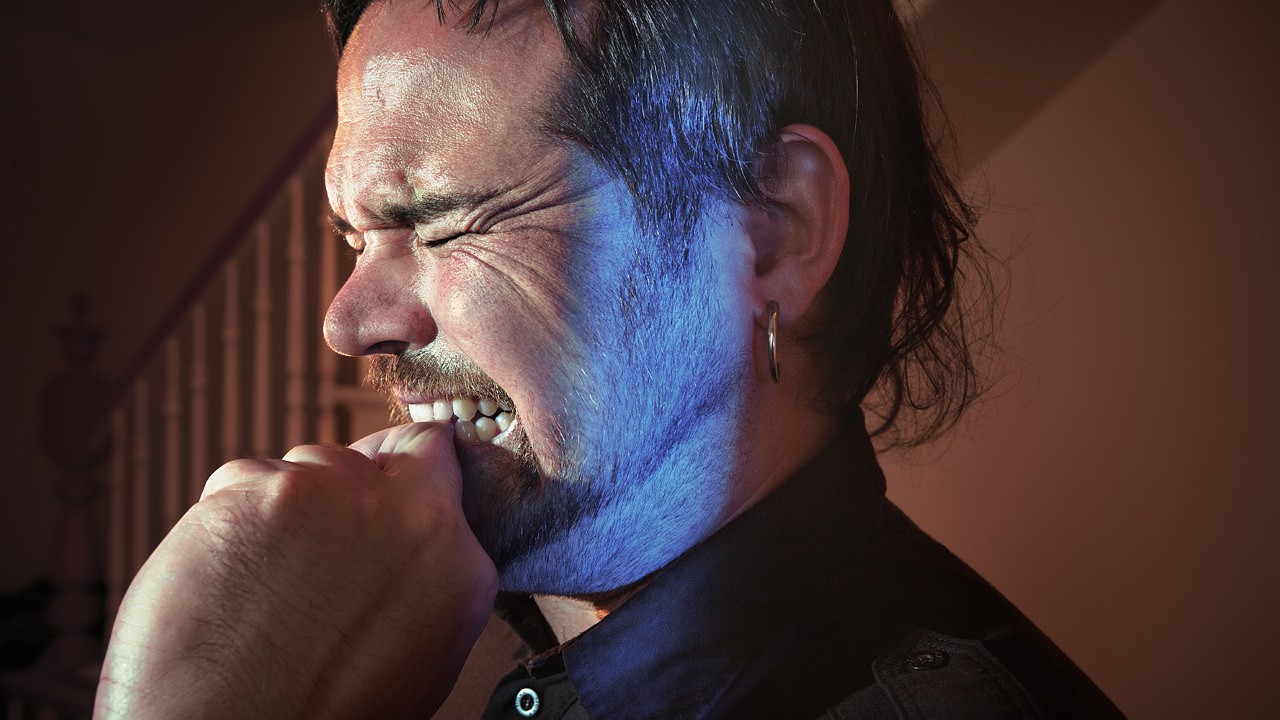 La rupture. Dans l'entredeux de la porte de la maison. Tenir sa jointure entre les dents jusqu'à temps qu'elle cède. Beaucoup plus long qu'il n'y paraît. On ne rompt pas facilement une si solide jointure.
Rupture. At the threshold of the house. Keeping one's joint between one's teeth until it gives. Much longer than it seems. Such a solid joint is not easily broken.
Extrait : «les grandes espérances n'ont cessé de nous tenir en laisse de cuir et de clous»
chambre de bain / bathroom
Se reposer comme un poisson dépose ses œufs au fond de l'eau. Risquer qu'ils n'éclosent jamais, gelés par la mort.
Resting like a fish laying its eggs at the bottom of the lake. Risking them never hatching, frozen in death.
Extrait :
«touché coulé 
évanoui de la dernière giclée
perte blanche
foutue de rien»
Un fantôme rôde par la fenêtre. L'été devient glacial. Même retranché derrière un mur de briques, personne n'est à l'abri de la folie.
A ghost roams through the window. Summer gets ice cold. Even hidden behind a brick wall, nobody is safe from the madness.
Extrait :
«tes passages font mal à mon crâne qui n'a plus rien de reconnaissable depuis la convalescence de nos élocutions violentes sous le pansement lâche de l'oubli qui a vu blêmir mes tissus»
Photo en vente en série limité avec signature, numérotation, certificat d'authenticité.
Livre imprimé en édition de 250 en vente 25EUR
 
Photos: Benoit Paillé
Textes: Sébastien Dulude
Assistant de plateau et motivateur: Daniel Delisle
Traduction : Christophe Dillinger
Éditeur: Les Éditions Rodrigol
buy print : gbuffer@msn.com
Buy the book : leseditionsrodrigol@yahoo.ca